---
SchoolMate
Integrated Institute Management System [IIMS]
SchoolMate
Integrated Institute Management System [IIMS]
SchoolMate is an integrated application to manage End-to-End activities of an Education Institution. It is highly
parameterized, Multi-user, Windows and Web based application which manages all activities of an Education Institution.
Highlights of the Software:
---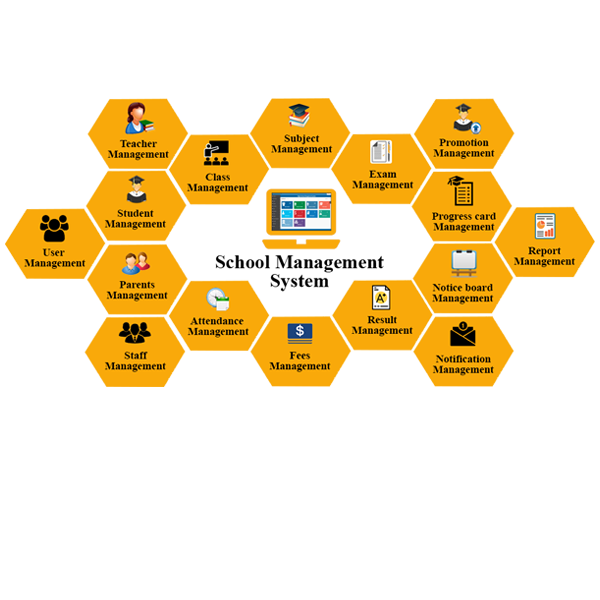 Easy to use GUI Design and self-explanatory, operator friendly screens.
Highly customized and quick and easy modifications implementation.
Highly secured at database level.
Supports Multiple user creation with access levels on Read/Write/View.
Predesigned ready-to-use 50+ reports.
A Custom report generator for quick 'any-field' report generation.
Single structure supports multiple course/faculty student management.
Easy connectivity for any supported hardware like Biometrics, Barcode scanners at various levels.
Multiple exam patterns CBSE/ICSE/CCE in one software.
Support for online hosting of results to web.
Reduces entry mistakes and involve less man-power.
Main Modules of IIMS
Main Modules of IIMS
Academics Module enables the following operations.

Pre Admission Process
Issue of Applications with details.
Student Admission data entry with photo.
Generation of merit lists for seat allotment.
One-click Admission process with Admission number generation.
Post Admission Process
Generate Roll numbers on class/Section combination with required prefix.
Print Admission Register (academic year/class wise / Simple/Detailed).
Modification of Subject groups and Sections.
Fully formatted Govt. reports on various admission criteria.
One-Click function for Study Certificates, DOB, Conduct certificates.
Automatically generate Transfer certificates.
Daily Absent entry with Auto SMS to parent.
Student Conduct entry (Achievements and Disciplinary actions).
Manage Scholarship entries (Govt./Private).
Generate attendance shortage students.
(Optional) Biometric attendance devices can be easily integrated.
Create class-wise fees items with default amount and compulsory / optional setting.
Manage Fees items for student with optional fees and variable amount.
Collect Fees either by Bank Challan or Direct Cash Mode.
Collect item-wise fees and pass an account entry automatically.
fees receipt instantly in text / graphic formats with balance in each item.
Multi-level fees payment & balance status.
Fees Concession entry provision on each student / each item.
Various fees collection reports for Course / Class / Student combinations.
Generate Summarised Demand-Collection-Balance report for Management.
Examination / Test Setup for each class tests and term-end exams on multiple patters (CBSE/ ICSE/ CCE).
Test / Examination Marks entry on student/subject mode.
Bulk processing of results.
Student progress charts and reports, graphical report on various categories.
Issue of TC and other Post Examination reports.
(optional) Hosting of Institute Results over the Internet.
Manages staff data both teaching and non-teaching.
Create / Manage Faculty profile with leaves available and basic pay details.
Create / Manage Payment heads.
Manage Faculty leave entry.
Manage various Loans (Advances/Bank Loans).
Generate Payrolls for each employee with Detailed pay-slip generation.
Deduction reports, Bank reports.
Creation of Book catalog with Accession Number.
Manage both Books and Periodicals.
Issue of Books to Students and Return entries.
Pending reports and Fine collection reports.
Lost and damaged books entry and reporting.
(Optional) Use of Barcode Technology in place of Manual data entry.
IIMS Provides the technology advantage of Mobile SMS into Institute Management where all the necessary / progress information of a student is communicated to the students/parents/Staff and the Management.
Uses one-way Push technology to pass the Short Messages to the recipients without the use of Mobile Phone/SIM's.
Import Phone numbers in multiple ways.
Economical and an Effective means of communication with parents and even to the Faculty members.
Send messages automatically on Admission/ Fee Balance / Vehicle Delays/Test results / Announcements / Holidays etc.,
Institute Specific 'Sender-Id's' in place of Mobile numbers as sender identifications.
Get the status of messages sent.
Vehicle and Transportation Module
Create vehicle details profile for each of Institute run vehicles like, model, make, Insurance Due dates, FC Due dates Etc.,
Create and manage Vehicle Routes of operations.
Assign Routes to Students who opt for transportation facility.
Get reports on Route/Pickup Point wise Students list with contact numbers.
Send SMS filtered on each route / Pickup point.
Track Fuel Consumption by capturing vehicle running mileage and Fuel.
Create Hostel Block details with Names, No. of Rooms available for both boys and girls sections.
Assign Students to Hostel Blocks and Rooms.
Generate Hostel Fees Bank Challan or Collect cash Fees for hostel facility.
Generate fee reports and pending reports.
Send SMS to hostel Inmates.
Create and manage Account Groups and Head of Accounts.
Post Fee collections amount to desired head of account.
Generate Account ledgers, Day book and trial balance.
Easy to manage and configure settings.